8:26 am,Indianapolis,Indiana we are on the way to the hospital..... Update and pictures in a bit! I can't believe she is coming on her due date.Mom got me up at 5:55 this am.well she did not come until 1:54 on monday the 22nd they sent us home on sunday morning as mom was just losing her plug and was only dialated to 2,so monday she gets up and says mom I am all wet, so back to the hospital we go and this time we got an admission ticket to the greatest show on earth!! labor moved along very slowly at 6am she was only at 2 1/2 and at noon she was at 3 so they started the pitocin drip gave 10 mg of nubane and labor progressed rather quickly! she entered the world at 1:54pm weighing in at 7.5 lbs and was 19 inches long.She was screaming her head off !! and she is as cute as a button! here is:
Olyviah Michelle Knowles
these 2 were taken on the day we brought her home, she is laying on the blanket I made her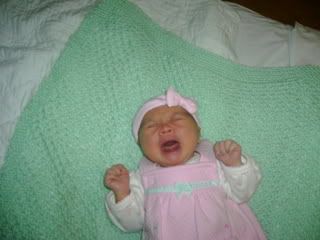 she was a few hours old when we took this one




here she is screaming!! LOL




this is one right after she was born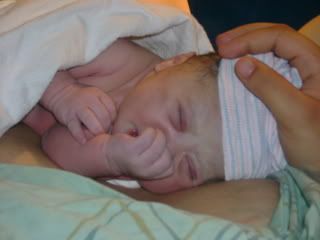 this is my favorite of her!!